Ad Category
Classified Ad
Display Ad
Matrimonial Ad
Obituary Ad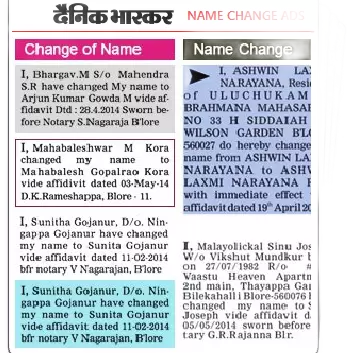 Personal Ad
Political Ad
Public Notice Ad
Commercial Ad
Government Ad
Hindustan Newspaper details
Circulation:- 22,00,000( (Approx.)
Circulation Area:- Delhi, UP, Uttrakhand, Bihar, Jharkhand, etc.

Readership:- 99 Lacs +
Sister Newspapers:- Hindustan Times, Mint etc..
People also search for:- Dainik Bhaskar, Dainik Jagran, Amar Ujala, Punjab Kersari, Rajasthan Patrika, Dainik Savera Times, Nai Duniya, Divya Himachal, Navbharat Times, Navodaya Times etc.
Hindustan Ad Booking is so simple here:-
It's a leading Brand today among Hindi Newspapers in India.
It is the 2nd largest Indian Hindi-language daily newspaper. According to Audit Bureau of Circulations, it is ranked 13th in the world by circulation and 6th in India.  Madan Mohan Malaviya launched it in 1936. It is published by Hindustan Media Ventures Limited. Earlier it was part of HT Media Ltd group, which spun off its Hindi business into a separate company named Hindustan Media Ventures Limited in December 2009.
And If you wish to create a major impact of your brand or ad in anywhere in India through Newspaper Advertising then you must book ad in this newspaper. Because, It's advertisements rates do a full justice to your brand in the first place. Their rates are quite nominal and always give maximum return to your product regularly.
Hindustan Circulation:-

22 Lacs (Approximately)

Circulation Area:-

-Bihar: Patna, Gaya, Bhagalpur, Muzaffarpur, Darbhanga, Purnia, Bihar Sharif, Arrah, Begusarai, Katihar, Munger, Chhapra, Danapur, Betiah, Saharasa, Hajipur, Sasaram, Dehri, Siwan, Motihari, Nawada, Bagha, Buxar, Kishanganj, Sitamarhi, Jamalpur, Jehanabad, Aurangabad etc.

-Chandigarh: Chandigarh City, Mohali, Panchkula, Kharar, Zirakpur,  etc.

-DelhiNCR: Delhi, Gurugram, Noida, Greater Noida, Ghaziabad, Faridabad, Bahadurgarh etc.

-Jharkhand:  Ramgarh , Daltonganj ,  Hazaribagh,  Giridih,  Phusro, Deoghar,  Bokaro,  Dhanbad,  Ranchi, Jamshedpur, Bokaro, Chatra, Dumka, East Singhbhum, Garhwa, Godda, Gumla, Jamtara, Khunti, Koderma, Lateher, Lohardaga, Pakur, Plamau, Sahibgang, Seraikela, Simdega, West Singhbhum etc.

-Uttar Pradesh: Moradabad , Aligarh , Bareilly , Prayagraj ,Varanasi ,Meerut , Agra ,Ghaziabad , Lucknow, Kanpur, Chitrakoot, Gazipur , Gautam Buddha Nagar , Faizabad , Bijnor , Balrampur ,Jhansi , Kaushambi , Mirzapur , Maharajgan , Mathura, Pratapgarh, Rampur, Sant Kabir Nagar, Shrawasti, Siddharth Nagar Sitarpur, etc.

 

Hindustan Readership:-
According to the Indian Readership Survey, This newspaper has a huge readership of approximately 60 lakhs regularly. That will create great impact also.  That is why you should book all types of classified and display ads in this Newspaper.
Sister

Newspapers

:-

 At the present time it has several sister publications: Hindustan Times, Mint etc.


Reputation:-

 With highly up to date and informative content, This Newspaper has made a good name and reputation among the print industry by the way.

Head office:-

Presently the office address: Kasturba Gandhi Marg, New Delhi (India).

Online booking benefits:- 

At the present time you can also avail special discounts and attractive combo packages with "Services Media". You can also book  Advertisement online in this newspaper frequently. For example you can book the categories like business ads or property ads or matrimonial ads or tender ads and many more. With us you can regularly make your advertisement reach out to people all over the nation on a big scale. You can also contact us for best packages and discounts particularly.


Overview:-

Above all, this Newspaper Advertisement can be a game changer for your product targeting the Elite Class of India. It is 9th rank in the world or 3rd in India. Also it is one of India's most influential papers. Its voice has frequently conform.
Why Advertise through "Services Media"?
Expertise: As an Advertising Agency, we've been working for many years with almost all newspapers across India. With our regular and hard & smart working approach, we have got expertise in Newspaper Advertising and reach out with effective solutions of problems associated with advertising in newspapers throughout India. We have compiled complete information on advertising that will help you to review Newspapers Ad Rates, availability of discount packages, circulation figures, readership and much more. We assist our clients for effective media buying. Booking ads online in all leading Indian Newspapers has been simplified at lowest ad rates.
Mission: Our mission is to provide a positive experience for every customer through our qualified and courteous staff.
Experienced and friendly Staff- We care about our customers and strive to make your experience with us the best ever. We have the nicest most knowledgeable customer support team in DSR. Give us a call see for yourself!
GUARANTEED Same day Service- We value your time. In most cases we process the advertisements in less than 3 hours. In some case it may be late due to some technical error or something missing documents or may be late payment etc.
Dealing in All leading newspapers- We deal in almost all newspapers, all types of Advertisements like Display, Classified, Matrimonial, Notices, Govt. Ads etc.
Competitive Pricing- For all the invaluable comfort our expert appliance repair provides, it doesn't come at too high a price. We offer very competitive rates, providing attractive packages & schemes.
No Lemon Quotes – Our quotes are set in stone. We will never charge you hidden fees. With 'Services Media' it's all simple- What You See is What You Pay.
Detailed Billing – Instead of just quoting you a number, we provide detailed billing so you can see what you get. We provide reliable estimates before we begin work and we never include hidden costs.
100% Satisfaction Guaranteed- You are in good hands! If things don't go according to plan, or unhappy with our service in any way, we will make sure to get the smile back on your face- We Guarantee it.
Note:-
Choosing the right Advertising Service Company can save you thousands of rupees over wrong guidance & misleading.
What is difference between Classified Running (Text) Ad & Classified Display Ad?
Classified Running/ Lineage Ad is simple text ad & it's size depends on No. of words/ lines/ character according to the rules of individual newspapers. But Classified Display Ad is a Box Ad having length & width. Actually it is a space purchased by clients according to their budget. But it will come only in classified category. It may be single column or may be double or triple depending on the rules of individual newspapers.
Why should you book advertisement with us?
We do what we commit. Our clients know it. We offer Discount/ Packages/ Schemes on regular basis. Our ad rates are also competitive & economical. Online ad booking facility is also available. That's why you should book ad with us.
Why should I trust "Services Media"?
Trust comes after mutual understanding. For mutual understanding we need to deal once. So must give us a chance to prove it!
What are the requirements to place an ad?
We required Ad Content what you want to be published. Some times some documents are required according to your ad. We let you know what is required during booking.
What are the payment options for booking an ad?
Cash/ Online/ Direct bank Transfer.
What is the procedure for online ad booking?
Simply visit our website & submit the form online. After submission, system will generate the bill and you will get it on your email. When you pay us, we will soon proceed the ad.
When & How to receive the bill of my ad?
You will get the bill on your email id what you have submitted during form filling.
What is the deadline to place Ad?
Before 2:00 PM for the next day booking. After 2 PM, it will be carry forwarded for the next to next day.
How will I  know that my ad is published?
We will let you know that your ad is published. Through E-paper you can see your ad. Almost all newspapers publish e-paper. In case you are unable to view your ad, we will send you on your email id.
How can I find my ad in newspapers?
Through E-paper you can see your ad. Almost all newspapers publish e-paper. In case you are unable to view your ad, we will send you on your email id.
What is the difference between 'Circulation' & 'Readership'?
Circulation is the number of copies published by media. But readership is the number of person who have read it.
Is it possible to publish all type of ad?
Yes. It is possible to publish all types of ad except objectionable ads.
Is it possible to change or cancel booked ad? Is refund possible?
Yes, It is possible to change or cancel booked ad at particular time period.
What is the change or cancellation process of booked ad?
You need to give prior notice/ letter for change or cancellation on particular time period.
Is there any cancellation charges?
Yes, 30% amount will be deducted as a service charge. Rest 70% payment you will receive in your bank account.
Dainik Bhaskar, Dainik Jagran, Hindustan,