The Tribune Ad Booking...
Circulation:- 1,75,944 (Approx.)
Circulation Area:- Punjab, Haryana (excluding Gurgaon and Faridabad), Himachal Pradesh, Jammu and Kashmir and Union Territory of Chandigarh
Readership:- 6.51 lakh,
Sister Newspapers:- Punjabi Tribune, Dainik Tribune etc..
People also search for:- Hindustan Times, Indian Express, The Hindu, Deccan Chronicle, Mid-day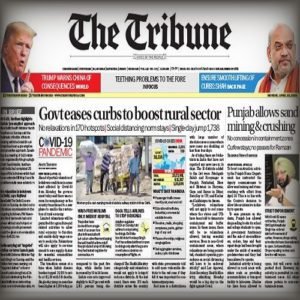 About The Tribune Newspaper:-

The Tribune Newspaper is a leading Brand today among English Newspapers in India. It was established on 2 February 1881 in Lahore, Punjab (now in Pakistan) by a benevolent Sardar Dayal Singh Majithia. After that it is run by a trust comprising five persons as a trust.

Especially If you wish to create a major impact of your brand or product/ services anywhere in North India through Newspaper Advertising then you must book display ad or classified ad in this newspaper. Because, It's advertisements rates do a full justice to your brand in the first place. Get special benefits over online ad booking. Their rates are quite nominal and always give maximum return to your product regularly.

Circulation:-

1,75,944  (Approximately)

Circulation Area:-

It is widely circulated for the most part of Punjab, Haryana (excluding Gurgaon and Faridabad), Himachal Pradesh, Jammu and Kashmir, Uttrakhand and Union Territory of Chandigarh generally.

Pullouts:-

There are several daily and weekly pullouts come out with it: Chandigarh Tribune, Jalandhar Tribune, Ludhiana Tribune, Amritsar Tribune, Bathinda Tribune, Lifestyle, Jobs & Careers, Haryana Tribune, Himachal Tribune, Trends, Spectrum, Lifestyle Plus etc.

Readership:- 

According to the Indian Readership Survey, This newspaper has a huge readership of approximately 6.51 lakhs regularly. That will create great impact also.  That is why you should book all types of classified ad or display ad in this Newspaper.


Sister Newspapers:-

 At the present time it has two sister publications: Dainik Tribune (in Hindi Language) and Punjabi Tribune (in Punjabi Language) in effect now.

Reputation:-

With highly up to date and informative content, This Newspaper has made a good name and reputation among the print industry by the way.

Head Office:-

Presently the office address: Sector 29-C, Chandigarh (UT) 160030 (India)

Online Ad Booking Benefits:- 

At the present time you can also avail special discounts and attractive combo packages with "Services Media". You can also book  Advertisement online in this newspaper frequently. For example you can book the categories like business ads or property ads or matrimonial ads or tender ads and many more. With us you can regularly make your advertisement reach out to people all over the nation on a big scale. Generally it includes major cities like Chandigarh/ Mohali/ Panchkula and Patiala/ Ludhiana/ Jalandhar/ Amritsar and Shimla/ Dehradun/ Rohtak/ Panipat/ Hisar/ J&K  and many more other cities likewise.  You can also contact us for best packages and discounts particularly.

Overview:-

Above all, it's Newspaper Advertisement can be a game changer for your product targeting the Elite Class of India.